GSA Otago
Members are invited to participate in activities planned for members in the Otago Branch. You may also wish to propose additional activities and other possible venues
Click here for the April 2019 Newsletter
BUS TRIP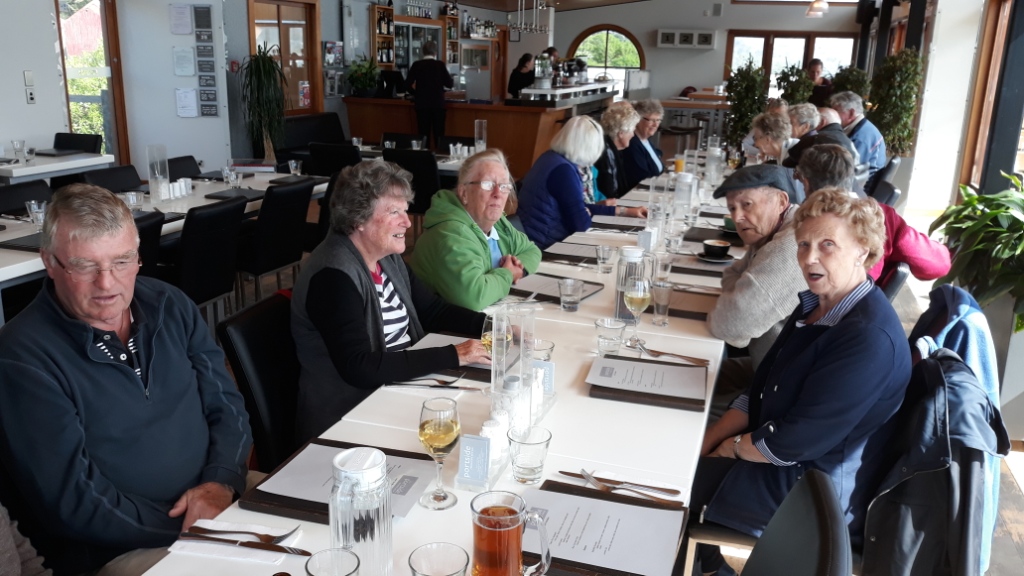 21 people enjoyed our latest bus trip to Oamaru. Leaving Dunedin a little late we eventually arrived at the Portside Restaurant where we enjoyed a fixed menu lunch.
After lunch, we walked through the heritage area, visited the Whitestone Cheese factory shop then to Old Mill Road where an old water wheel that used to drive the flour mill machinery has been restored. We arrived back in Dunedin about 5pm.
AGM this year will be held at the Otago Golf Club in Balmacewen Rd on May 29th. We ask that everyone arrives between 11:45 and 12:00 so that we can start our proceedings promptly. Cost will be $25 per person.
THERE WILL BE A BOOKING SHEET ON THE APRIL NEWSLETTER ALONG WITH A COPY OF THE BALANCE SHEET TO BE PRESENTED TO THE MEETING.
CHRISTMAS FUNCTIONS  2018 are being held at the Otago Golf Club on December 5th and the Portside Restaurant and Bar Oamaru on December 6th. Details in the latest newsletter.
COUNCIL 2018 Bill Price and Robert Morey attended Council in Wellington as the Otago Delegates.
REPORT ANNUAL COUNCIL 2018 click here for Branch Bulletin #39
To be read in conjunction with Branch Bulletin #39 August 2018.
Minutes of the previous Council were read and passed with a couple of minor alterations. The meeting jumped around a bit from the agenda.
4.1
President's address was read and accepted.
4.2
Tony Hamilton presented the outline on Head Office communications. He outlined that in 2014Head office spent $25k and Branches $49k on communications. In 2018 this had changed to $89k for Head Office and $15k for Branches due to Head Office taking over the mail outs. Communications to members is important and encourages members to use email instead of post to receive their Annuity News.
GSA website needs revamping as many branches found few were using it.
4.4
Possible future restructuring plan shouldn't be too restrictive but with consultation as when needed. Branches are still the functioning unit.
Favoured monthly Board meetings as personal interactions are considered very important.
4.5
Bryan Whisker presented the member services section. There is a breakthrough with meeting the State Services Commission with better access to preannuitants through the payroll system as a result total membership dropped 130 over 9 months instead of the expected 1000.There are problems with lapsed members falling through the cracks when unpaid invoices are not followed up on or when they transfer to their annuity.
4.6, 4.7and 4.8
Dallas Elvy went through the financial pages attempting to answer a lot of criticisms about taxation and Head Office spending. Renewed audited financial figures were presented to the meeting as there were several mistakes in the pre reviewed figures presented. Questions relating to a budget blowout relating to agency recruitment fees for the new CEO and the History project as one off expenses. Difference in fixed deposits was due to transfer from maturing to the current account before renewing the fixed deposit. There were also some figures shifted from one category to another. Noted that HO staff were working under pressure as accounts from the auditor were very late being returned.
The budget for 2019 was passed.
Greg O'Connor the MP for Orahiu and former Police Association spokesman gave an address including:
Your outlook on life changes with age. It is important to belong to an organisation such as ours and knowing what you are talking about. He also highlighted the future aging document recently released to help form future policies. Answered questions.
4.9:
Current reviewer Sum-it Accounts was reappointed for the coming year with a warning that if the same difficulties as this year arise we would look elsewhere.
Item 5 Policy Objectives:
4th objective added to monitor the tax working group if recommendations impact on our annuity.
It was pointed out the COLA was worked out in December and by the time the Minister has the figures and Christmas holidays etc it was into February and Datacom needed time to implement it so March 31st was considered appropriate.
It was also suggested that the "Basket of Goodies" used to determine the COLA should seek to have some input from our age group.
5.1, 5.2, and 5.3 were all passed.
Item 6 GSA future:
Was not covered as the presenter was sick.
6.2 Hawkes Bay motion was passed.
Item 7 Centralising of financial reserves:
After a lot of discussion quite heated at times the Auckland Branch motion was passed 43:22. The second part of the motion was withdrawn.
Item 8 Investment of Financial Reserves:
Largely negated due to the Auckland Branch motion but the part saying "National Office reserve funds are to be held…….." was considered. It was moved and passed that section 8.1 be referred back to the Board for further clarification of definitions on what were considered reserve funds.
Item 9 Constitutional Change:
These changes were carried.
Item 10: South Canterbury motion
This was lost 28:37
Item 11: Life Members
2 people were inducted:
(a)  John Fitzgerald from Waikato/King Country and
(b)  Janice Campbell from Wellington
Item 12 Board Elections:
President:                Tony Hamilton beat Bryan Whisker 35:28
Vice President:       It was ruled that as the only nominee was now president, that position could not be filled from the floor quoting from the constitution. The Board will appoint one.
Board Members:     Tony Hamilton's name was withdrawn.
(a)  Rob Brangwin                        39 votes
(b)  Dallas Elvy                             61 votes
(c)  Bill Robertson                        58 votes
(d)  Mike Smith                             68 votes
(e)  Alan Straker                           44 votes
(f)    Marjorie Thomas                   41 votes
So the last 5 people were elected.
Section 13.1 History Project:
Brief report on progress.
Section 13.2 Audit and Risk sub-committee:
Issues raised were "What If?"
History project is not completed
Taxation
Health and Safety
Earthquake risk and consequences for Anvil House – all ongoing and will be reported on.
Passed
 Address by Cecilia Tarrant Chairperson of the Government Superannuation Fund supported by Simon Tyler CEO of the GSF.
A rundown of the makeup and function of the GSF and its relationship with Datacom.
Interesting to note that there is an average loss of about 2.5% of contributors and annuitants.
Bill Price and Robert Morey missed the last session due to our having to catch a flight home. It is likely that the meeting would have finished up shortly after as all the agenda items able to be covered were done so.
ROBERT MOREY 4/9/2018
INTERNET BANKING DEPOSITS may be made to our Westpac account number  03 0903 0379891 00
Please use your name as a reference and dinner/bus trip etc as details.

 AGM 2018:
36 members enjoyed the lunceon at the Otago Golf Club on 30th May 2018.
Members were addressed by Mike Smith from the National Executive on matters currently of interest.The present committee was re-elected namely:
Bill Price(chair), Anne Cressey (vice chair), Robert Morey (secretary/treasurer), David

Horne (minute secretary), Errol Thompson, Brian Hall, Isobel Philips, Ron McLeod, Max Kennelly, Mike Cowell.
Lyn Harris expressed his regret at having to resign from the committee.
I am surveying how many people read this page, please email Robert at otago@gsa.org.nz

Branch Newsletter  click this link for our latest newsletter October 2018
2018 AGM to be held at the Otago Golf Club Balmacewen Road Dunedin at 11.45 on 30th May.
It will start with a lunch then the meeting between courses.

OTAGO BRANCH RESPONSE TO DRAFT POLICY:21ST MAY 2018

 1. Future Restructuring: 
The organisation is right to raise this issue given that currently there are 19 branches, 5 of which have less than 400 members (Branch Bulletin 2018). Obviously we must all accept the inevitability of a gradual decline in GSA membership numbers, and so it is sensible to prepare our organization for that. The various papers, discussions, and policy development related to this are therefore a positive move. The constitution covers the event of unsustainable branches. The figures presented to 2017 Council shows that the financial problems of some branches are not borne out by the figures. Those showing deficits have sufficient reserves to cover that level for 5 years. 
It has been suggested that some branches are, or will be, struggling financially. Questions need to be asked eg…

 

Are such branches those with small membership numbers, and/or are they the branches paying commercial rates for services?

Does larger branch size – whether membership or area - create any particular difficulties (eg: with organisational efficiency and living within their means)?

How many branches are serviced by volunteers, with only actual expenses paid for?

Is there currently a particular level of branch membership considered unsustainable? Covered by the constitution.

Were restructuring and related issues discussed at the Larger Branches Secretaries' Meeting (7 March) with National Office Staff – and if so, which issues, and with what conclusions?  
Our Constitution already determines that branches are "the fundamental unit of the GSA" (Clause 6.2), and that sub-branching, or merging of branches, will be the prime action to be taken as individual branches cease "to be fully functional" on their own (6.5). Examples of potential non-functionality are given. Council 2017 stated, however, that "at some stage simply merging branches will not be an option, and that planning should commence for the shape of the GSA once the branch structure ceases to be viable."
It is unclear what evidence supports the first part of that latter statement, or if it is simply based on presumption and supposition. The likely reality of course is that over time, merging will lead, in the final stage, to just one national "branch" or base - but this is not really a different process to that already covered by the Constitution; it is a natural extension of it.
Council 2017 also agreed "that work begin immediately to identify areas where GSA restructuring is most likely to be necessary in the next five years, and preparations be made accordingly." Again, the evidence base for this is unclear - the only changes likely to be "necessary in the next five years" are that a few currently small branches may decide or be told to become sub-branches or to merge with adjacent larger branches, in accordance with the Constitution. But this is not really restructuring, it is simply an already anticipated and planned process.
2. Centralization of Financial Reserves:
In principle, this may have merit.  The organization should maximise earnings for the GSA to carry out its role.  Our Constitution clause 9 clarifies the position of "all funds and other assets of the Association", and it is clear that Council is acting in accordance with its constitutional remit in its 2017 resolution "that GSA reserves are consolidated centrally and invested to gain the best return". However, this does not necessarily mean that the decision was an appropriate or equitable one, and it does need to be tested. We are happy with central investment but NOT with central control. 
It is membership fees from GSA members in the various branch areas (together with the interest provided by the investment over time of some of those fees), that provide the funds for all our GSA operations and activities, at both national and branch level.  
Our central operations already take more than half of the fees provided by members in the branch areas (which seems quite reasonable, given their responsibilities on our behalf), before returning the remainder to the various branches for their own operations. These funds are provided apparently based on membership numbers, which also seems both appropriate and equitable.

Each branch determines the specifics of how it will operate, within GSA and regulatory guidelines and requirements. Some branches have as a result accumulated reserves, while others have got into financial difficulties. We need to know more about how both these circumstances have occurred. For example, have some branches had better financial management, or had volunteer rather than paid office holders for secretary and treasurer? Have some branches spent on activities not undertaken by other branches?

The concern for branches such as Otago is that the benefits of financial surpluses built up through careful management and the work of volunteers are not then lost as a result of centralizing financial reserves. Since the funds have been provided to branches equitably, it would be completely inequitable to now claim that branch members in areas that have spent less should be penalized by having control of their saved or invested funds removed, and used for other purposes. The Constitution already provides the process to be followed by branches who have, for whatever reason, spent more and are in difficulties.

If it can be shown that centralizing so-called "reserves" will definitely provide a usefully higher investment return than current branch investments, this can be done while still tagging the funds to the branches from where they came. This is not a particularly unusual process, and is already followed by some organisations.

Under this model, as more mergers occur over time, branch funding will inevitably become centred on fewer and fewer branches. Eventually there will be just one national entity, and the aim of fully centralized funding will have occurred, but without having removed branch control for their fairly obtained membership-based share of fees funding.

We consider another funding model for branches is needed. If all branches that are considered viable, whatever their membership base, have very similar secretarial and treasurer-related requirements, there might be some justification for considering a certain common funding model for all branches. For example, an allowance to pay a secretary/treasurer, with the remainder of the funding being at (say) 20% of branch area subscriptions instead of the current approximately 40%.

There is perhaps a need for Council or the Board to give clearer guidance to branches as to what is and is not considered acceptable use of "their" funds. Conceivably, for example, some of the variances in current financial strength of branches may be due to their different views on subsidizing branch social activities, paying for various services, reimbursing various member expenses, and so on.

It would be inequitable, unjustifiable and unwise to simply use funds removed from the surpluses of other branches to pay for services to branches in financial strife. Our Constitution already covers what is to happen in such circumstances. (If even just one troubled branch was given funding for, say, provision of external secretarial or financial services, every other branch would be justified in requiring funding at similar rates for themselves, whether their current services were being provided externally or by branch members. Without procedures such as suggested in 2.6 above, this could quickly deplete our overall reserve resources, and is yet another reason for leaving branches in control of how their own investments should be spent.)

To conclude, our branch strongly supports the GSA as an organization, and its objectives as stated in the Constitution (Clause 3). However, we do have a strong aversion to seeing funding that has been provided to regional or local entities on the basis of some logical and equitable distribution, later being removed to centralized control.
Centralized funds investment, with expenditure control retained at branch level while acting in accordance with Council guidelines, is a reasonable course of action provided there are real investment advantages. It is fair, and it recognizes both the rationale and history of funds disbursement, and also the inevitable and sometimes subtle differences in branch dynamics, needs, priorities and consequent operations. 
Centralized funds control, however, is very different, will antagonize those branches and members who feel as we do, yet will achieve no more for our long term future than the suggested model.
INTERNET BANKING
 Our Westpac account number is 03 0903 0379891 00

The branch committee (elected at the annual meeting) meets: on the 3rd Monday of the month in the Maori Hill Community Hall at 2.00 p.m. Meetings followed by a light afternoon tea normally last for approximately 1 hour.
Are there other locations where members might like to meet?
What subjects would you like discussed?
About 50 people enjoyed our AGM dinner at the Otago Golf Club during May where we had a lovely meal and a speech from Brian Whisker outlining progress to date on the various activities of our National Body and items of concern to us. 
The Branch Committe comprising of:
Chairman- Bill Price
Deputy- Anne Cressey,
Secretary/treasurer- Robert Morey
Minutes secretary- David Horne
Committe members- Michael Cowell, Robin Gledhill, Ron McLeod, Errol Thompson, Lyn Harris, Brian Hall, Max Kennelly  have been re-elected.We also welcome Mrs Isobel Phillips to our committee.
We have set up a social sub-committee to plan our annual bus trip which could be later this year or early next year and our annual Christmas function will be early December.
What destinations would members like to visit on these trips? Please let me or any of the committee members know.
Are there any members willing to be co-opted onto a sub committee to help plan our social events?
To find out more about activities planned for members, or to suggest other activities or venues, contact:
Branch Secretary
Robert Morey
P O Box 5182
Dunedin 9054
otago@gsa.org.nz
0800 888472