GSA Otago
Members are invited to participate in activities planned for members in the Otago Branch. You may also wish to propose additional activities and other possible venues
Click here for the April 2021 News
The AGM lunch will be held at the Otago Golf Club on Thursday 27th May at instead of our ususual Wednesday to allow Tony Hamilton (our National President) to attend.
Please be seated by 12 noon.
 CHRISTMAS LUNCHES:
2020 Christmas lunch is at the Otago Golf Club on Wednesday 2nd December. There is a mistake with the date in the newsletter and our bank account number is Westpac 03 0903 0379891 00 which was wrongly listed as 09-etc.
Alan Peck our new Board liaison person speaking at the Otago Christmas lunch at the Otago Golf Club on 4th December 2019. Alan has been the GSA national general secretary.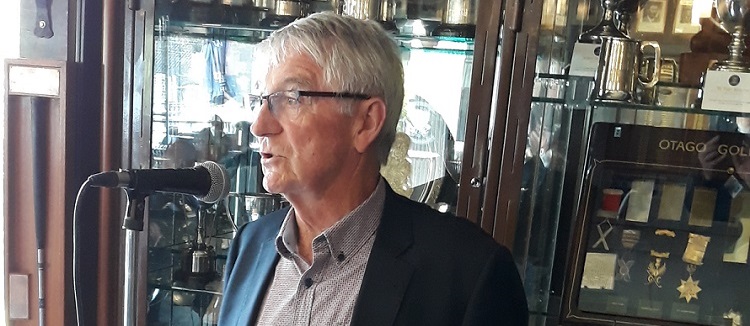 Dunedin members at their Christmas lunch

 Oamaru Christmas lunch on 5th December 2019

AGM this year will be held at the Otago Golf Club in Balmacewen Rd at a date to be notified as soon as the Covid-19 levels drop so that we are able to gather.
We have set up a social sub-committee to plan our annual bus trip which could be later this year or early next year and our annual Christmas function will be early December.
What destinations would members like to visit on these trips? Please let me or any of the committee members know.
Are there any members willing to be co-opted onto a sub committee to help plan our social events?
To find out more about activities planned for members, or to suggest other activities or venues, contact:
Branch Secretary
Robert Morey
P O Box 5182
Dunedin 9054
otago@gsa.org.nz
0800 888472